They are awesome.
They are perfect for being at home, having a cup of coffee 24/7 in front of you and watching some movies. Or series (aka I have just found an awesome serie called "Game of Thrones" and "The Borgias", also catching up on "Spartacus: Gods of Arena").
Shame that the exams are getting closer and closer and my procrastination level is higher than ever. I stil think they should make it a school subject.
To comment latest news, that I don't do very often:
1. The Royal wedding
Indeed a nice event, ate 6 hours of my day. It is nice to see there are countries that have monarchy, but shame to see czech people ocmmenting "oh i wish we had monarchy just because of cool weddings like that!" Then, my dear czech idiots, you shouldn't have let T. G. Masaryk made a damn republic out of our lands after the WW1. And also, the monarchy has never been officially cancelled in here, so.. we still are one.
Anyway, wishing the couple the best of luck. And adding a silly picture afterwards: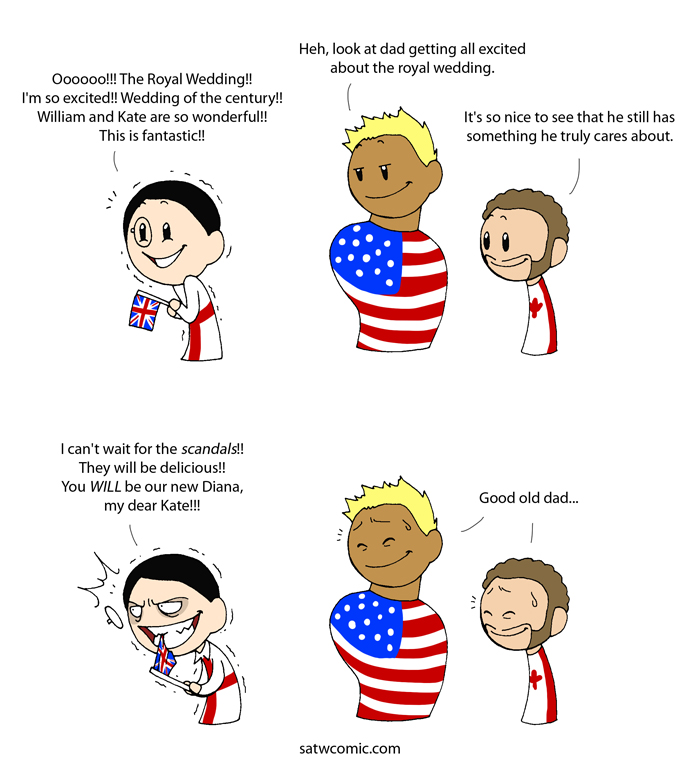 2. Beatification of the Pope John Paul II.
And also christianity is still alive (and dying? jk). I respected Karol Wojtyla as a person, who managed to give the church a friendlier face. So, even though I am not in the church, I agree with this move.
3. Bin Laden dead?
Who believes that?
Either he is still hiding somewhere or he is dead for a long time now, I don't believe it. I think it was the right move for Obama raising his popularity before elections, but.. the only way for me to believe this is to se his corpse on few different pictures. The fact that "they buried him into the sea" feeds my non-believing even more.
And Americans with their flag waving "we killed him fuck yeah" should seriously go to hell and dine there along with other terrorists.
Phew.
Back to school.